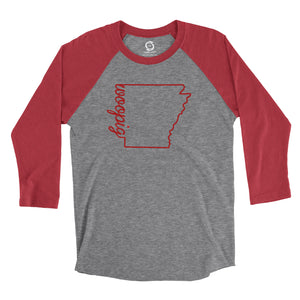 ** NOTE: Our long sleeve t-shirts are a more generous fit than our classic short sleeve Cavecloth t-shirts**.  
Take a good look at this amazing hand-printed, Cavecloth-original design plopped right down on a super-soft, preshrunk,  premium long sleeve t-shirt. Printed with eco-friendly, water-based inks, each long sleeve t-shirt arrives to you with a Cavecloth logo on the back (which, we think, is pretty amazing and should probably be slapped just about everywhere.) Our heathered long sleeve tees are fashioned from soft, tri-blend fabric.  
Our solid color long sleeve tees are fashioned from 100% ring-spun cotton, aka 100% awesome. You're welcome. 

Individually hand-printed, each one is guaranteed to be unique. We refuse to put more crummy cloth into the world, and so we refuse to print with typical t-shirt processes. Instead of using plastisol ink (that's t-shirt speak for "Eww. That's the worst thing I've ever put on my body. It's cracking. It's peeling. It's in no way contributing to world peace."), every Cavecloth long sleeve t-shirt is printed with environmentally-conscious water-based inks. We clean up our screens with (get this…) WATER, and we use no harmful chemicals. Best of all, our inks leave you with the world's most amazing long sleeve t-shirt. And because we print each t-shirt individually right here in our little cave in Fayetteville, Arkansas, (instead of farming it out to a big, impersonal, automated factory shop) your purchase supports our local tribe's economy. (And, who are we kidding… puts food in our kids' lunch boxes.) But, most importantly, your purchase of a small-batch, mom-and-pop, Cavecloth tee just makes you look cooler than anyone else. True story. 


Our long sleeve t-shirts run true to size.